Templeton Fire and Emergency Services receives over 7k in donations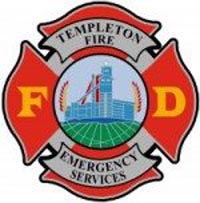 –Templeton Fire and Emergency Services in December announced the results of #Giving Tuesday. To date the department has received $7,100. The most recent donation was presented by the Templeton Rabobank Branch. The total to date includes the $1,500 match money provided by Weyrick Lumber Company.
"I continue to be amazed and honored by the tremendous amount of support that we received from businesses and individuals in the Templeton Community for #GivingTuesday," Chief White said: Their tremendous generosity will allow us to purchase a new siren/growler (used to clear intersection) and Jaws of Life Hydraulic Power Unit, as well as, new structural firefighting equipment. If we receive additional donations by year end it would allow us to cover additional operational and equipment needs, such as firefighter turnouts (protective gear) that are not budgeted because of our limited funding."
The department is still accepting tax-deductible donations. If you would like to donate, please make your tax-deductible check out to Templeton Fire and Emergency Services. You may drop off your check at the Templeton CSD Administrative Office located at 420 Crocker Street, Templeton or mail your tax-deductible donation to P.O. Box 780, Templeton, CA 93465.
For tax preparations purposes, please utilize Internal Revenue Code section 170(a) and (c) (1) and California Revenue and Taxation Code section 17201(a). Any donation would be greatly appreciated and we thank you very much for your support.
Comments
comments