Templeton Eagles lose to Liberty 23-20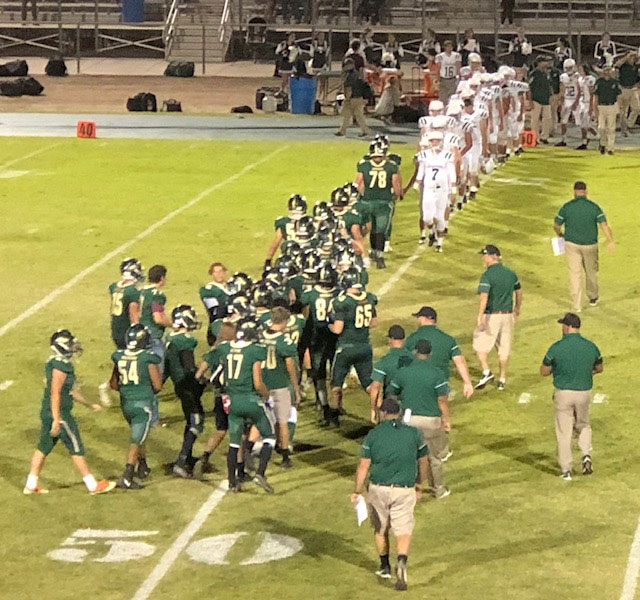 The Templeton Eagles lost Friday night to Liberty 23-20 in Madera, Calif.
The Eagles led most of the game, but with only four seconds left to play, the Hawks broke a 20-20 tie with a 33-yard field goal, their third of the game. The Hawks kicker also made two field goals from 40+ yards. With their first loss, the Eagles fall to 3-1. The Hawks improve to 3-2. The Eagles host Santa Ynez next Friday. The Pirates are 2-2.
Redwood High School beat Atascadero 51-6 Friday night. The visitors from Visalia jumped out to a 14-0 lead in the first quarter and racked up another three touchdowns in the second to take a 35-0 half-time lead. The Greyhounds scored six in the 3rd quarter, which accounted for all their scoring. The final score was 51-6. The Greyhounds fall to 2-3. The Rangers improve to 4-0. The Greyhounds next host Royal of Simi Valley.
The Paso Robles High School Bearcats varsity football team improved their record with another win Friday night. The Paso Robles Bearcats trailed the Pioneer Valley Panthers for most of Friday night's game. Then in the 4th quarter, the Bearcats scored 20 points to beat the Panthers.
The Bearcats beat the Pioneer Valley Panthers of Santa Maria, with a final score of 35-21. The matchup began at 7 p.m. at War Memorial Stadium, at Flamson Middle School in Paso Robles, Calif.
The Bearcats are now 2-3, and were ranked #383 in the state going into the game by MaxPreps. The Panthers are now 1-3 for the season and were ranked #514 in the state.
Comments
comments