Premier nail salon 'Calvin's' opens in Templeton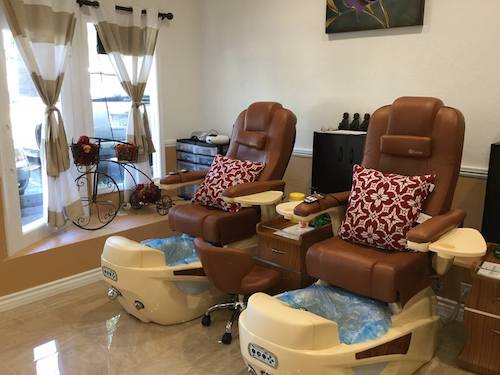 —Prepare for the ultimate spa and nail experience at Calvin's, a premier nail salon located in Templeton. The salon opened on April 1 of 2016 and has created a local customer base that turn to Calvin's for wedding nails, day to day nails and more.
"We focus on quality and we take care of our clients," said Calvin Quang, owner of the salon.
Calvin's offers a quality, relaxing experience for an affordable price. Regular manicures are $15 that include a five minute massage, hot towels and attention to treating cuticles. A hot stone pedicure is $25, also with a hot towel, hot stone and a ten minute massage. A spa quality manicure and pedicure is $40. Also available are spa packages, such as the two deluxe pedicure treatments for $35, where the heel or skin is focused on. Depending on the treatment picked, a hot stone, organic honey scrub, massage or callus removal may be used. To truly enjoy a spa day, try the royal mani/pedi, which includes callus removal, a cooling gel mask, fifteen minute massage and more for $70.
Little ones are welcome to come pamper themselves also, where 5 to 7 year olds can enjoy a manicure and pedicure for $25 and 8 to 12 year olds for $30.
Calvin's offers other services beyond nail treatment, including extra attention to nail health and changes. Nail polish changes, acrylic and gel nail removal, and a french polish are available for a low price. Basic designs can be added to nails for free if a combo treatment is picked.
Calvin's is located at 105 S Main St in Templeton. Open Monday through Saturday from 9 a.m. to 7 p.m. and Sunday from 10 a.m. to 4 p.m. For more information, call (805) 952-5606.
Comments
comments