Local on Good Morning America for 'Myositis Awareness First Pitch' campaign
–Templeton resident Vance Robinson was featured on Monday's ABC's Good Morning America. Robinson has been an avid baseball fan for most of his life and has combined his love for the sport with his personal efforts to bring national attention to myositis. Robinson was diagnosed with inclusion body myositis (IBM) in 2009, one of the five types of myositis, an autoimmune disease causing chronic, progressive inflammation of the muscles.
Robinson is bringing national attention to the disease by reaching out to college baseball teams. In 2017, Robinson launched VeeRob's Myositis Awareness First Pitch Campaign, throwing the first pitch at college baseball games. Robinson has become legendary, distributing thousands of his Myositis Awareness wrist bands to teams and fans and raising thousands of dollars for the Myositis Association. As the disease progressed attending games became more difficult. These days he continues his campaign by asking teams to participate by sending him a cap and jersey that he can use in his work by demonstrating how many teams are helping spread the word. So far, says Robinson, "I have 24 college teams committed and both the Los Angeles Dodgers and the San Francisco Giants." Participating college teams include local Central Coast teams from San Luis Obispo and Santa Barbara counties. Robinson said more teams are joining every day.
"When I was first diagnosed with IBM I was surprised to find out there wasn't much information available about this disease. So, for the past five years my full time job has been raising public awareness. I don't get paid for this work, but it's important for the public to know and to help fund research."
The Myositis Association describes five forms of myositis: Dermatomyositis (DM), Polymyositis (PM), Necrotizing myopathy (NM), Sporadic inclusion body myositis (sIBM) and Juvenile forms of myositis (JM). Robinson said he is most interested in more research into the juvenile forms. "I had a great childhood. This disease robs kids of their childhoods and I would like to see these kids have great childhoods like I did." Robinson asks that interested parties go to the Myositis Association website and make a donation.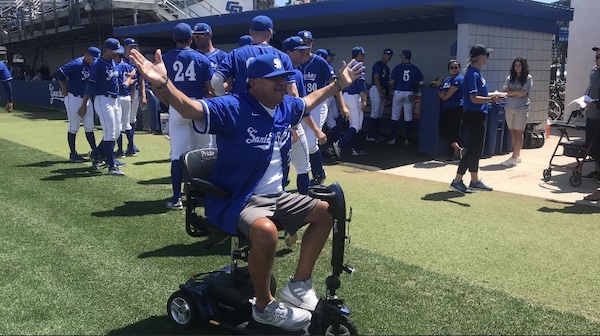 Robinson said the IBM has progressed. "I haven't left my house since October and I'm pretty much confined to the scooter and power wheelchair. I still spend several hours a day working on this awareness project."
"So many people have pitched in, especially my landlord, local winemaker Tobin James," said Robinson. "Tobin has been a huge support, making so many modifications to my home that make things easier for me. Tobin has a very big heart." Friends of Robinson have launched the GoFundMe project: Help Vance Stay Independent with a Mobility Van so Robinson can get out of the house. With the mobility vehicle, Robinson can roll his wheelchair in, transfer to a driving position and drive himself for errands and appointments.
Click here to watch Vance Robinson on Good Morning America.
Comments
comments