Expect experience and compassionate care from Las Tablas Animal Hospital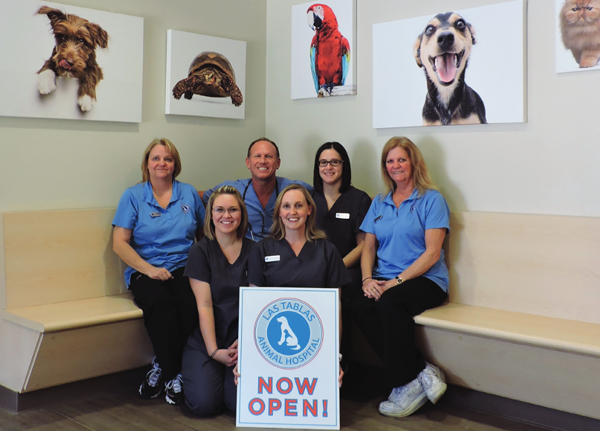 –Las Tablas Animal Hospital opened last year in Templeton, at the corner of Las Tablas Road and Bennett Way, with experience and compassion as their core values. Many clients with their loved pets have been long time patients of Dr. David Edsall, DVM, who was previously a partner at Atascadero Pet Hospital & Emergency. Las Tablas Animal Hospital and Dr. Edsall's core beliefs provide a sophisticated, compassionate, "whole health" approach to animal care and takes special care of each animal patient and their caregiver/owner.
Dr. Edsall has over 20 years' experience as a veterinarian and brings general practice and emergency experience to his new animal hospital. He started his career in several veterinary specialty hospitals and was on staff at several AZA accredited zoos, giving Dr. Edsall an experienced practical advantage in diagnosing and caring for all pets. This experience combined with his bed side manner and his experienced staff's attention to detail make for an amazing, stress reduced experience when visiting Las Tablas Animal Hospital.
"I work extremely hard to ensure that our clients and their pets are treated in a manner that is best for the pet and best for the client, tailoring to their wants and needs," said Dr. Edsall. "I always think in the back of my mind, 'treat them like your mother.'" When asked recently why he opened his practice, Dr. Edsall answered, "I believe that Northern San Luis Obispo County was in need of an animal hospital that embraced the client and their pets and provided a higher level of care and service."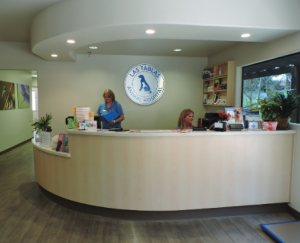 Las Tablas Animal Hospital and its well trained staff offer a variety of services from wellness check-ups to puppy/kitten care to senior pet screens, routine and emergency treatment, surgery, boarding/ medical boarding and hospitalization. Las Tablas Animal Hospital is most recently offering surgical and behavioral rehabilitation, keeping in mind the whole health approach for pets. Care is also provided to pocket pets like backyard chickens, rabbits, snakes, lizards and birds. State of the art, sophisticated care includes a digital X-Ray machine, surgical/anesthesia monitoring, ultrasound machine, dental machine, surgery suite, and fully computerized paperless patient files. Educational staff training ensures the entire staff, including client services, is continually expanding their expertise. They utilize veterinary specialists frequently at the hospital for training and seminars, so the entire staff is up to date on the latest techniques, best protocols and technology available in the veterinary industry.
The hospital offers convenient Saturday appointments, evening appointments and early morning appointments, before work, if needed so that clients can take care of their pet needs at a convenient time with less stress. Working together with clients is very important to Las Tablas Animal Hospital.
Dr. Edsall welcomed Dr. Lucy Gutierrez, DVM in 2015 to his practice. Dr. Lucy has over 15 years experience practicing full time and has a strong following in North County. Her calm bedside manner with animals, ability to communicate with the client and her concern for your pet make Dr. Lucy a welcomed addition to Las Tablas Animal Hospital.
Las Tablas Animal Hospital has demonstrated a positive impact in the Templeton community in a short time with not only the quality health care for pets and customer service for clients, but also for their involvement in the community. Dr. Edsall and his wife and family live in this community.
Some of the events they are looking forward participating in this spring include: annual Dog Jog at Vina Robles benefiting Parks4Pups, Wine4Paws benefiting Woods Humane Society, Annual Rattlesnake Avoidance Dog training Class, Educational Talk with Dr. Edsall on fox tails, local dog training discussions/tips, Pet Bereavement Class using Hospice of SLO County. In March, they are offering 25-percent off Spay & Neuters in honor of World Spay Day.
Las Tablas Animal Hospital is easily accessible right off the freeway at Las Tablas Road for clients traveling from Atascadero or Paso Robles. For more information, call (805) 369-2222 email help@lastablasah.com or visit www.LasTablasAnimalHospital.com.
Comments
comments