Fourth of July events on the Central Coast

Beautiful fireworks and magical moments can be discovered across SLO County this July 4
Looking for 4th of July events in San Luis Obispo County? Small town charm can be found across San Luis Obispo County, proving it is always a lot of fun to visit SLO during the holidays. Summer fun, and beaches drenched in sunshine and outdoor activities are sure to encourage everyone to discover the happy places all along the beautiful Pacific Coast and inland.
---
Best of SLO County Independence Day Activities
---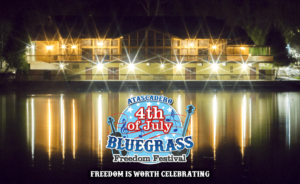 Atascadero
Atascadero Fourth of July Bluegrass Freedom Festival is a one-day free event on July 4th at Atascadero Lake Park. Three bluegrass bands — Snap Jackson & the Knock On Wood Players, The Blue Js, and Little Black Train — with emcee BanjerDan, will play 5 hours of bluegrass music. A BBQ put on by the Atascadero Moose Lodge, raising money for Atascadero Colony Days Parade, and other food, and beverages is available from vendors. Atascadero Printery Foundation will host the beer and wine booth, raising money for the rehabilitation of Atascadero's oldest standing Civic Center building. This event is family-friendly, and a brand new playground installed in the Lake Park, and a bounce house and other games for kids and families. Boating is available on the lake, provided by Lakeside Paddleboats and Kayaks. During the event, a bluegrass jam session will be facilitated by the Toro Creek Ramblers. The rolling hills of Atascadero Lake Park and large shady oaks provide an inviting atmosphere for event-goers during the Independence Day celebration. For more information, visit www.atascaderofourthofjuly.com.
---

Paso Robles
Paso Pops, the annual Paderewski Festival-sponsored patriotic concert and Independence Day celebration in Paso Robles is coming which will be a day of fun for all. The Paso Pops welcomes guests to enjoy wine, beer, food, family-friendly activities, live music, and fireworks. The event moves to the Main Stage at the Paso Robles Event Center with a three-year agreement as part of this venue and date change. Purchase Tickets Here.
---

Santa Margarita 4th of July Celebration and Parade
Santa Margarita will hold its annual Fourth of July celebration on July 4 from 9 a.m. to 1 p.m. Community is encouraged to decorate bikes and wagons in red, white and blue and join the parade down H street. After the parade, there will be live music, games, contests, art and craft fair and more at Santa Margarita Community Park, 9509 State Route 58. For more information call (805) 438-5011.
---

Templeton
Templeton's small-town charm is extra exciting this year with the annual Templeton Fire Department's Pancake Breakfast, starting at 7:00 a.m., and hometown parade from 1st to 8th street. This event is sponsored by the Rotary Club of Templeton.  After the Parade, join friends and family in the Templeton Park for live music, food trucks, non-profit booths and activities for the whole family, bounce house, Lions Club Live Auction, cold beer and much more until 3:00 p.m. Live music by the Joy Bonner Band. Folding chairs, shade awnings, and picnic blankets are a good idea. No dogs or fireworks allowed. For more information visit www.templetonchamber.com
---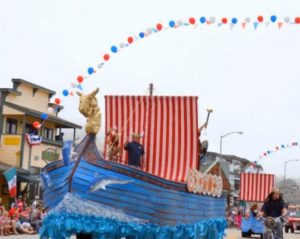 Cayucos
In Cayucos, people come from far and wide to enjoy a special 4th of July on the beach. Traditions in Cayucos stay solid year after year and include sand sculptures by children, adults and professionals. The annual parade along Ocean Avenue begins at 10 a.m. followed by a barbecue. The sand-sculpture contest is early in the morning from 5-8 a.m. and is sponsored by the Cayucos Lions Club. Fireworks are stationed at the pier, 9 p.m. Don't miss the Peddler's Faire across from the beach.
---

Morro Bay
The annual 4th of July Family Fun day starts with a skateboard race, a patriotic bike parade from Morro Rock, and a carnival with a dunk tank, bounce house, and live music. Many boat rental companies are taking visitors out to Cayucos to see the fireworks and the Morro Bay. Decorate your ride in its best red, white and blue. Participants will then cruise the Embarcadero (led by the Morro Bay police cruiser) down to Tidelands Park, where the celebration continues with an honoring of the military, music, and games. Bring a picnic. The event is alcohol-free. For more information contact the Morro Bay Tourism Bureau or call (805) 225-1570.
---

Pismo Beach
Pismo Beach is the perfect place to spend the 4th, with a full day of music, food, arts, and crafts being followed by fireworks at 9 p.m. Events will be from 10 a.m. to 11 p.m. Join the fun and see more than 50 vendors on and around the pier. Visitors may watch the fireworks for no charge from the beach. Celebrate our nation's independence with music, food, and a Grand Fireworks Display from the famous 1,200 foot Pismo Pier. The event is free. For more information contact the Pismo Beach Chamber of Commerce at (800) 443-7778.  DJ and music, vendors, VIP seating on the Pismo Pier and one of the best fireworks show on the Central Coast.
---

Cambria 4th of July Picnic in the Park
Fireworks are back in Cambria this year. Cambria's old-fashioned July 4th will be held at Shamel Park. Starting at 11 folks are invited to have fun, enjoy local food, win prizes, dance to live music, and much more.  All day kids can jump in the bounce house, jump in the swimming pool, or have their faces painted. Enjoy the day with 11:30 a.m. -1 p.m. live music and kids games 1-2 p.m. Waiter and waitress balancing tray relay races 2-3 p.m., don't miss Linn's pie eating contest at 3 p.m. A raffle is also held from 3:15-4 p.m. The trolley will run from 10 a.m.-6 p.m. along Main Street and Moonstone Beach Dr to Shamel Park. Day concludes with a fabulous fireworks display.
---

Avila Beach July Boat Parade
The 4th of July in Avila Beach starts with the pancake breakfast at 8 a.m. at the community center, and the San Luis Yacht Club's 4th of July Parade of Boats at Avila Pier starts at noon. The parade features decorated sail and power boats, led by the Port San Luis Harbor Patrol fire boat (with water cannon). The event includes patriot music and a miniature cannon. At the end of the pier, there's patriotic music and a miniature cannon. Avila Pier in Avila Beach, 11:30- 1 p.m. Free. There is also a doggy parade at 11 a.m. call (805) 627-1997 to register.
---

Arroyo Grande Fourth of July in the Village
Celebrate 4th of July at the Rotary Bandstand in Heritage Square Park, 205 Nelson Street. Enjoy the Village Band Concert at 1 p.m. Hot Dogs, Lemonade and Ice Cream will be served by the South County Historical Society! Arroyo Grande in Bloom representatives will again be present and handing out gifts! Event is free. Time 1-3 p.m. For more information call (805) 473-2250.
---
Fire Safety reminder
A happy reminder to the public, unauthorized exploding fireworks are illegal everywhere, and "Safe and Sane" fireworks are only allowed in certain areas. Have a Happy 4th of July.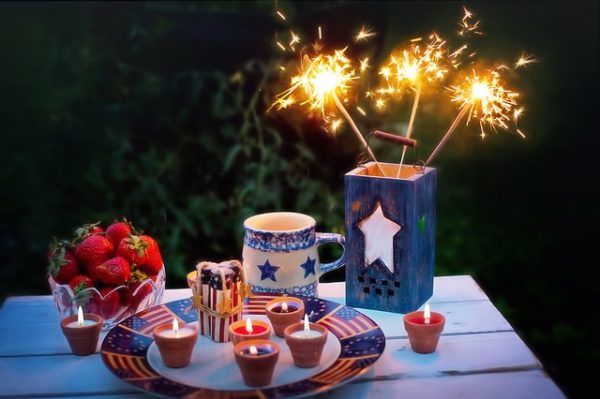 Comments
comments