Cotton & Rust: A Western Boho Boutique Hits Main Street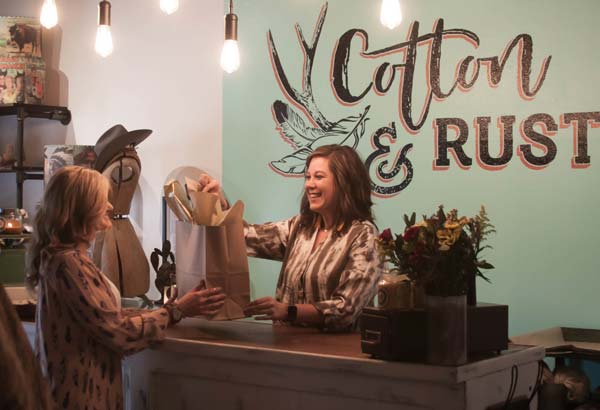 "Beginnings are scary, endings are usually sad, but it's the middle that counts the most. Try to remember that when you find yourself at a new beginning, just give hope a chance to float up" – Unknown
For years now, Alyssah Goss dreamt about how she could introduce her passion of fashion and design to her community, but after months of hard work and countless hours of ups and downs, She has fulfilled the dream of this new adventure. With the love, support and encouragement from not only the people closest to her but many new friends she has met along this journey, she took the leap of entrepreneurial faith and opened her own boutique on Main Street, in the same building as popular Kitchenette and Nest Real Estate in October of 2017.
Cotton & Rust is a clothing and home boutique located in the heart of downtown Templeton. This is a forever dream of Alyssah's and she and her boyfriend spent months hard at work remodeling the space to get the Western/Boho style of Cotton & Rust to shine throughout the store. Now only 6 months after opening her doors, she is already expanding into the space next door and is excited to announce the launch of Cotton Seed, a clothing and decor line specifically for little gypsies and buckaroos.
We caught up to this stylish and busy businesswoman and asked her a few questions. Here is what Alyssah had to say:
When did you open? Our Grand Opening was October 13th, 2017.
Why Templeton? Growing up in the village of Arroyo Grande, it reminds me of home 20 years ago. I love the small town feel of Templeton where everyone is like family. I can see where Templeton is headed and I wanted to be part of its growth and history.
How would you define the store's style and why did you choose that? Cotton & Rust is a western boho style boutique. I chose that because its an area of style that is seen in our county, yet there's nowhere to really shop for that style. Many people I know as well as myself all shop online because it's the only place to find fun, unique pieces in that Western/Boho style. The hard part about always shopping on online is you don't always know how the item will fit and most online boutiques don't offer returns. I wanted to bring the online boutiques I love to a storefront where we can try them on and have the one-on-one experience.
Why did you choose to open a boutique? It has been a long time dream of mine. I have always loved fashion and truly believe that your personal style is a reflection of who you are, your personality, and what you want to say to the world. The right outfit can make you feel like you can own the world. I want to help make everyone that comes in to feel like that when they leave!
What's your favorite item in the store right now? All of our new Spring products are AMAZING!!! We recently brought in 6 new lines including Pendleton, Double J Saddlery and Liberty Black Boots and loving all of them!
Cotton & Rust
105 S. Main St., Suite 2B
Comments
comments