Come on over to Nino's Grill

New restaurant now open
–Nino's Grill is a unique collaboration of motivated, local individuals who together strive for excellence in every aspect of the dining experience. The staff, by living and loving what they do, has created a fresh unique flavor and flare that is not just another place to eat but to feel at home. They are passionate about our customers and each other. It is with this passion, from their families to yours that brings forward Nino's Grill. They have something for everyone, any occasion, big or small.
Each person creating this restaurant has an area of expertise yet they all have a common goal of being successful in everything they do. This team is comprised of professionals from many fields. They have utilized interior decorators, lighting consultants, audio/visual consultants, professional craftsman, and the best modern equipment on the market for the build of the restaurant. All areas of the business are approached with excellence in mind.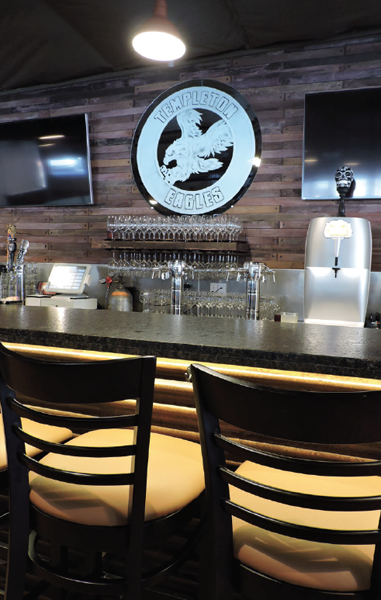 As a business they strive to ensure the best experience possible, to make their customers and employees believe in what they do. Their goal is to set a new standard in the fast-casual bar/grill sector of the industry. The owners and managers won't just have the role of performing their job assignments, but they will be role models. In the community they say that they want their goods and services to be beneficial to the health and vitality of the people. Nino's Grill will be a positive impact in the town of Templeton.
They do not however, consider themselves a "Sports Bar" in the typical sense of the phrase. While they will always play professional sports on our T.V's, they are committed to the over 100 youth sports teams in the area. They will be a place to hang out with your team, watch your own games, and impact our youth in positive ways.
Their mission is to serve the highest quality product by the highest qualified staff. Come enjoy local wine and beer, slow smoked meats, salads from local farms, unique sandwiches, fresh fish, burgers, and more. Most importantly, enjoy the lifestyle created by locals for your whole family.
Comments
comments