Templeton Youth Soccer's Girls All Star League had a great year
This year the Templeton Youth Soccer Girls All Star League were the Orcutt Cup Classic, and South Bay Shootout Champions, and also received the Orcutt Crusaders Classic 2nd Place, and the Santa Maria Strawberry Cup 3rd Place.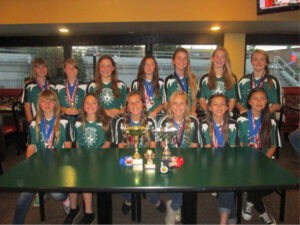 "It has been my pleasure to coach these girls this year; they came together as a team and had a great tournament season. This group put great effort into developing their skills as individual players and as a team. I was impressed throughout the season with their sportsmanship and maturity both on and off the field. I believe they presented our community and our league with distinction bolstering my faith in their generation," said Coaches Charlie and Sarah Thomas.
Templeton teams, both boys and girls, were very successful this season thanks to Templeton Youth Soccer and the Templeton Rec Department. They have provided our local youth with productive athletic activities, which help produce both excellent athletes and citizens.
"Once again I would like to say thank you to every member of the Templeton girls U14 all-star team, I look forward to coaching and watching all of you for years to come. I have had an amazing experience working with all of you, thank you for a great season," the Thomas' said.
Sign up for weekly Templeton News
Related posts:
Comments
comments