Templeton Turkey Trot 2014
We are pleased to announce our 7th Annual Templeton Turkey Trot on Nov. 22. The start and finish line will remain at the Templeton Fire Department and will include a 10K and 5K as well as a 1-Mile Fun Run for the kids.
The 5K and 10K will start at 8 a.m., and the Kids' 1-Mile Fun Run starts at 9 a.m. Last year we had over 100 participants running, walking and trotting to the finish line and we expect to exceed those numbers this year. We have a brand new course this year, winding through the streets of Templeton and highlighting some of the most scenic areas in town!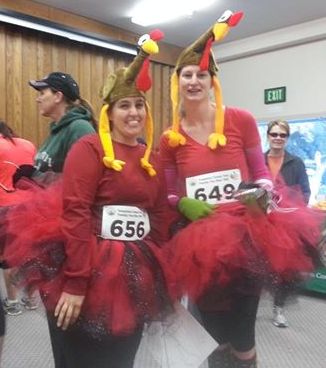 Pre-registration will open on Sept. 29. To register online, visit the Recreation Department page on our website at www.templetonCSD.org. Pre-registration for the 5K and 10K will guarantee the registrant a T-shirt in their choice of size. The 5K and 10K pre-registration is $40; day of registration will be $50. The Kids' 1-Mile Fun Run is $5. T-shirts will also be available for purchase on race day.
Pre-registered bag and bib pick-up will be Thursday, Nov. 20 and Friday, Nov. 21 at the Templeton Recreation Department (599 S. Main St.) between 9 a.m. and 6 p.m. We strongly encourage participants to dress-up in their best fall and Thanksgiving outfits! There will be prizes raffled off to random finishers as well as a best costume contest! If you are interested in volunteering or donating please contact the Templeton Recreation Department at (805) 434-4909.
2014 Turkey Trot Shirt Design Contest
There will be a T-shirt design contest for Templeton youths, with the winning drawing becoming the logo for this year's Turkey Trot shirts. All designs must be completed by a resident of Templeton or student of Templeton schools who is under the age of 18. Submissions will be accepted the entire month of October, with the winner being announced Tuesday, Nov. 4. The winner will receive free entry into the Turkey Trot (should they choose to participate) and a T-shirt featuring their design. A very special shout-out of congratulations to Megan Rubin for designing the 2013 T-shirts, at the age of just 8 years old!
Comments
comments