Local moving company now serving Templeton, Atascadero, Morro Bay, Cambria, Cayucos
North County Moving announced they are bringing top-quality moving service to nearby towns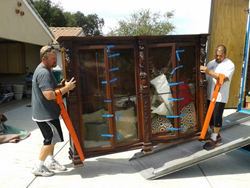 When it comes to moving unique items, the owners and staff at North County Moving have the experience, knowledge and professionalism required to handle even the most valuable and precious possessions of home and business owners. This can be a rare commodity in the moving business – not all movers operate in the same manner, nor do they have the background in moving valuable pieces.
Their special moving services are available to residents in San Luis Obispo County including Paso Robles, Atascadero, Morro Bay andCambria.
"We are the most experienced and professional moving company in San Luis Obispo County," said John Pritchard, who co-owns and operates North County Moving with Alan Bell. "With close to 44 years of combined experience amongst our staff, we have moved just about anything and everything that you can think of."
Grand pianos, collectibles, heirlooms, & more
A few of those items include grand pianos, sets of collectibles, antique furniture, heirlooms, and valuable artwork. Although many home and business owners call on North County Moving to pack, move, and store entire households or businesses, many times the staff is called upon to move just a small sampling of furnishings – the most valuable items.
"There have been numerous calls that ask for assistance with high-value antiques, family heirlooms and grand pianos," said Pritchard. "We are well-known among realtors and other professionals for being reliable, professional, attentive, and efficient – so we are often the first moving company that comes to mind when it comes to handling those high-need items."
Friendly, personalized service
Although in high demand for moving unique and rare possessions, Pritchard and Bell place a strong emphasis on keeping their business small in order to maintain that same friendly, personalized service that has remained at the top of their priority list since first starting the company nearly five years ago.
"Although we are a small, family-owned business, we can handle any and all moving jobs – big or small," said Pritchard. "We have the know-how and the most experienced staff of movers in the area."
Free estimates
Need a precious or valuable item moved and don't know who to call? Look no further than North County Moving – they even offer free estimates so customers know what to expect before tackling that big move.
"Our reputation in San Luis Obispo County, throughout California, and even across interstate lines speaks for itself," said Pritchard. "For anyone who is thinking about trying to move an heirloom, collectible, or antique item, I would advise them to give North County Moving a call first. With our free estimate service, it is easy to determine if we are the right company to handle your move – and I can almost guarantee that once you meet us, you will think so as well."
North County Moving information
After John Pritchard started North County Moving in 2010, Alan Bell joined the company as co-owner and operator in 2013. Operations Manager Heather Hollister and the rest of the friendly, professional staff at North County Moving bring experience, knowledge, and personalized service to every move they make.
Based out of Paso Robles, CA, North County Moving provides service daily in Paso Robles and the surrounding areas of San Luis Obispo County, throughout California, and across the country with interstate and intrastate moves. To schedule an appointment for a free estimate or to schedule a move, call Heather at (805) 200-9660 or visit the North County Moving website at northcountymover.com.
Sign up for weekly Templeton News
Related posts:
Comments
comments