Local leaders honored at Templeton IMPACT Awards Dinner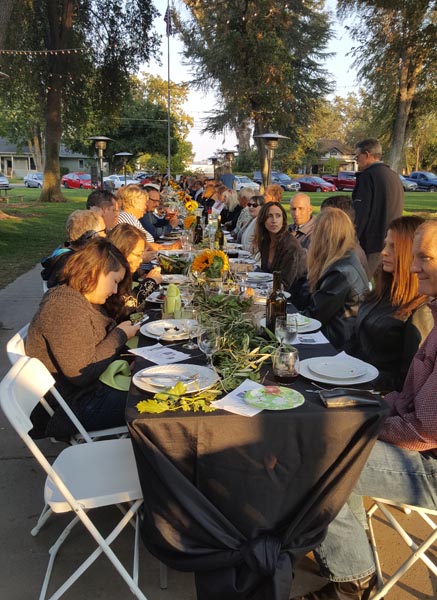 – On Saturday, Aug. 27, the Templeton Chamber of Commerce hosted the inaugural Templeton Community IMPACT Awards Dinner in the Templeton Park, with almost 100 people enjoying an al fresco farm-to-table style meal under the oaks. The annual dinner featured a silent auction, wine social and awards ceremony. IMPACT stands for Inspire, Motivate, Protect, Advocate, Counsel and Teach, and the winners of the awards demonstrate one and usually more of these actions every down in this small town.
In addition to the recognition of community civic leaders on the Templeton Unified School District Board of Trustees, Templeton Area Advisory Group delegates, and the Templeton Community Services District Board of Directors, the following awards were presented to deserving citizens:
Citizen of the Year- Melissa Kasarjian, a local CPA and owner of Kasarjian & Company. Melissa was named one of the "Top 20 under 40" by the Tribune this year, and serves on the Chamber Board of Directors, the Templeton Education Foundation board, plus has contributed many hours and donated thousands of dollars to local non-profits and the Templeton schools.
Business of the Year- Castoro Cellars, owners Niels & Bimmer Udsen and their two adult sons operate this iconic winery in the Templeton Gap and have been a consistent donor to many programs in town, including a major sponsor of Concerts in the Park since its inception, major donor to various non-profits through their Beaverstock Music Festival, hosting SLO Folks concerts, sponsoring the Wine & Roses Bicycle Ride and many other community activities.
Business Beautification Award- State Farm Insurance-Office of Courtney Morrow, who last year purchased and renovated a run down single family home in the center of the commercial district on Main Street, that had been on the market for over eight years, and did a major remodel to produce a stylish new office for her insurance practice, with the help of friends, family and a VA loan, as Morrow, and her husband, formerly served the country in the United States Army.
Other winners included:
Public Safety Person of the Year- Captain Brandon Wall of the Templeton Fire Department
Student Citizen of the Year- Rocco Chalekson, a student at Vineyard Elementary School
Ambassador of the Year- Jan Hop, a Nussentials representative and long-time volunteer for the chamber
The awards ceremony and community celebration was produced by the Templeton Chamber of Commerce and also recognized the installation of their new Board of Directors, which includes President Mike Lane of Twin Cities Hospital, Vice President Stephanie Kemp of Garcia Wealth Management, Secretary Courtney Morrow of State Farm Insurance, Treasurer Sarah Toft of Heritage Oaks Bank, plus directors Steve Hodgson of Kinetix Physical Therapy, Dr. Stephen Sigmund, Dr. Navid Fardanesh, MeShawn Dimos of Harvard Risk Management, Kat Breig of AD-VO-CATE Real Estate Partners, Melissa Kasarjian of Kasarjian & Co. and Jeff Briltz of the Templeton Community Services District.
Sign up for weekly Templeton News
Related posts:
Comments
comments