Fourth Of July Small-Town Style!
DOWNTOWN TEMPLETON • FRIDAY, JULY 4 • PANCAKE BREAKFAST 7AM • PARADE 10AM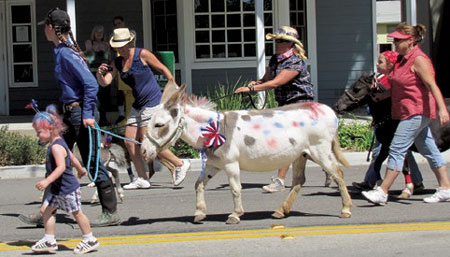 For years, Templeton has been known for its Fourth of July celebration. The tradition continues each year as family and friends from near and far get together to experience the old-fashioned, small town birthday bash.
The patriotic day begins at the Fire Station with a pancake breakfast.Templeton Fire Department firefighters serve up the
hotcakes from 7am-10am.
Next, gather your blankets and chairs and find a spot to watch the 4th of July Parade, which begins at 10am. Members of the Kiwanis Club of Templeton, who work throughout the year to preserve this grand hometown tradition, coordinate the parade. Anyone wanting to celebrate his or her American spirit and community pride is encouraged to participate, and floats of all kinds, new and old, are welcome.
The Honor Guard members of Templeton American Legion, Post 220 lead the procession of horse drawn carriages; brightly decorated truck and trailer floats carrying local preschool children, church groups, and social organizations; antique car clubs, children on bicycles, unicycles, skates and scooters; several horse clubs, the occasional family entry with one or two children in tow via a red flyer wagon accompanied by a pet dog, goat, or mule; local politicians; and additional fun and sometimes quirky entries. When it comes down to it, community members are either in the parade or along the parade route cheering on friends and neighbors as they make their way past the Park and down Main Street.
After the parade, everyone heads to Templeton Community Park for more fun. The Templeton Lion's Club holds their annual auction, which always draws a big crowd. Local nonprofits set up booths and provide the food and beverage to keep everyone going. Families spread out their colorful quilts and beach chairs to enjoy picnic lunches in the mid-afternoon sun and small children swarm the park playground equipment. It is hometown Americana at its best. Red, white and blue are the colors of the day, and everyone is encouraged to dress accordingly!
For more information, including a parade float application, please contact Templeton Kiwanis at (805) 237-9825.
Comments
comments