Fire department seeks additional revenues to continue emergency services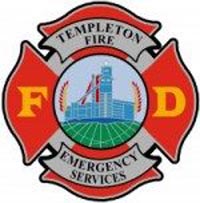 –Templeton Fire and Emergency Services has been a proud and important part of our community for more than 120 years. Their staff of two fulltime captains, a halftime fire chief and up to 30 paid call firefighters (PCFs) is dedicated and honored to provide highly trained and skilled fire, medical, rescue and public service response. They are at their best when the community needs it the most.
As the District of Templeton continues to grow both in residential and commercial development, the department will see an increase in emergency and non-emergency calls for service. They are aggressively pursuing various opportunities to address our financial needs in order to properly provide the highest level of service and qualified personnel to meet the current and future needs of the community. Unfortunately, development fees cannot keep pace with the increased demand for emergency response.
As a Community Services District, their only permanent funding source comes from property taxes which are only 8.4-percent of the total taxes collected in Templeton by San Luis Obispo County. Templeton does generate approximately $1.6 million in sales tax revenue; however, the district does not receive any sales tax dollars back from San Luis Obispo County. The district estimates it would take an additional $610,000 a year to properly fund and staff a response model which will provide the community a reliable and sustainable 24 hour a day, 7 day a week operation.
The district is currently looking into opening negotiations with the County of San Luis Obispo for an increase in the property tax allocation for Templeton. The district is extremely hopeful the newly elected San Luis Obispo County Board of Supervisors will be receptive, supportive and willing to grant the district an increased percentage of property tax revenues our community deserves and which will be used for the protection and enhancement of the district.
In 2016, the Templeton Board of Directors directed for district staff to pursue the creation of special districts for new residential and commercial developments to ensure they pay their fair share of the increase demand for emergency services. Over the past year, the district, in coordination with San Luis Obispo County, has been working to develop and implement Community Facilities Districts (CFD) on any new development proposed for Templeton. CFDs allow the District to collect special funds which can be used for fire and emergency services and parks and recreation. Although the District will not see an immediate return on its investment, over time, CFDs will be an important funding mechanism for long term sustainability.
Templeton is a caring and understanding community. When asked for donations to help purchase much-needed wildland firefighting equipment, citizens responded with nearly $10,000 in donations.
Even with these potential and additional funding sources, Templeton Fire and Emergency Services still needs a dedicated source of funding to provide financial stability. To accomplish this, they need continued support. The department is looking for local individuals, business owners and organizations that understand and value the service the Fire and Emergency Services provides our neighbors, family and friends. We all desire to keep our neighborhoods and their residents safe, healthy and protected. Your influence and commitment to Templeton can help us do just that. We want to invite you to join our Friends of Templeton Fire and Emergency Services ambassadors. The Friends of Templeton Fire and Emergency Services is an advocacy group which will help spread the message about the department's challenges, opportunities, services and goals. If you are interested in being a part of this grassroots effort to support the Templeton Department of Fire And Emergency Services, please email Fire Chief Bill White at chief@templetoncsd.org or call (805) 434-4911 and provide your contact information. They will provide information on how you can be involved with the organization. Follow the organization on Twitter @templetonfd and/or Instagram at chief7100.
A way to immediately show the community you support Templeton Fire and Emergency would be to purchase stickers or car magnets. The stickers are $2 and the car magnets are $5. This is a great way to show your pride and commitment to the department.
Stickers and magnets are available at the Templeton Fire and Emergency Services, located at 420 Crocker Street.
The department is also looking for monetary donations to help offset the costs associated with providing emergency services, which cannot be captured by the general fund. If you would like to help out financially, the department is looking for voluntary, tax-deductible donations to help support ongoing staffing and operational needs. If you would like to donate, please make your tax-deductible check out to Templeton Fire and Emergency Services.
For tax preparations purposes, please utilize Internal Revenue Code section 170(a) and (c) (1) and California Revenue and Taxation Code section 17201(a). Any donation would be greatly appreciated.
Sign up for weekly Templeton News
Related posts:
Comments
comments