Assemblyman Jordan Cunningham to speak in Templeton on Nov. 3
Templeton Women in Business hosts legislative luncheon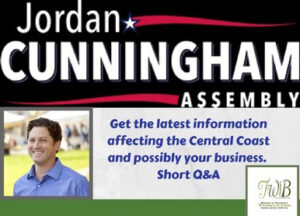 Join the Templeton Women in Business group as they welcome State Assemblyman, and Templeton resident, Jordan Cunningham, at their annual legislative luncheon. The event will take place Friday Nov. 3 at McPhee's Grill, located at 416 South Main St. in Templeton.
Get the latest information affecting the Central Coast, and possibly your business. A short question and answer session will follow the presentation.
Lunch starts at 11:15 a.m. and is open to members and nonmembers; paid reservations are due no later than Wednesday, Nov. 1. The event may sell out, so early reservations are recommended. Members are encouraged to donate a raffle prize to further promote their business.
The cost is $30 for members/$35 nonmembers and includes choice of one of three entrees, a non-alcoholic beverage, and dessert.
Purchase tickets by clicking on the link here or call (805) 434-1789.
Sign up for weekly Templeton News
Related posts:
Comments
comments